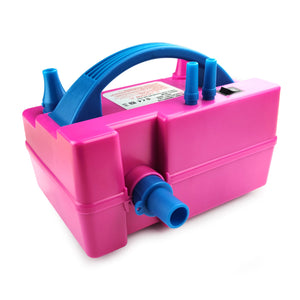 Introducing our electric balloon pump, the perfect solution for all your balloon inflating needs. With its compact and lightweight design, you can easily take it with you to parties, events, or even use it in the comfort of your own home.
Measuring 7.87 x 5.9 x 5.71 inches and weighing only 2.07 pounds, this pump is small enough to fit in your hand and light enough to carry with ease. Its compact size also makes it easy to store in a drawer or cabinet when not in use, saving you valuable space.
Whether you're planning a birthday party, a baby shower, or any other event that requires balloons, our electric balloon pump is the perfect tool for the job. Its dual nozzle design allows you to inflate two balloons simultaneously, saving you time and effort. And with its compatibility with the Bloonsy balloon stuffing machine, you can take your balloon creations to the next level.
Say goodbye to the hassle of inflating balloons by mouth or with a manual pump. Upgrade to our electric balloon pump today and enjoy quick and effortless balloon inflation, compatible with the Bloonsy balloon stuffing machine.
Hello
what is the voltage and frequency of this machine?
Is it work in Saudi Arabia ?