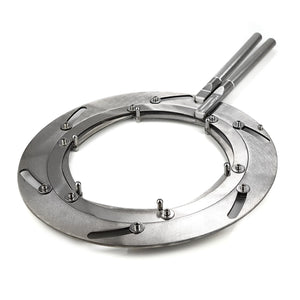 The Balloon Expander Tool is designed for quick and easy stuffing of Latex and Bobo Balloons, ranging from 10 to 32 inches. Made from stainless steel, this tool is incredibly durable and works best with a stuffing machine. It is important to use this tool alongside a stuffing machine, not by itself.
To use it, simply roll the balloon's mouth a few times and place it over the eight raised nodes. Then, squeeze the handles together, lower the stretcher until the balloon's mouth is lower than the bottom of the machine neck ring, and release the pressure. Push the stretcher down and squeeze the handles again to lift the stretcher off the neck. Your balloon is now ready to be stuffed with a variety of items, such as clothes, teddy bears, smaller balloons, flowers, gifts, and more. Detailed written and video instructions are provided, so learning how to use them is simple.
Our Balloon Expander Tool is designed to be used together with the Stuffing machine and makes balloon stuffing faster and easier. It stretches the balloon neck, making it simple to attach to the Stuffing machine.
Bloonsy Balloon Stretcher is crafted from stainless steel, ensuring that it is both reliable and resilient. This durable design is sure to stand the test of time and will provide you with long-lasting use.
This Balloon Stretching Tool is ideal for balloons of all sizes, from a small 10 inches to a large 48 inches, and is suitable for both Latex balloons, as well as Bobo balloons.
It won't take long to become a pro at the Balloon Expander Tool! A comprehensive set of written and video instructions are included, so mastering its use is a breeze.